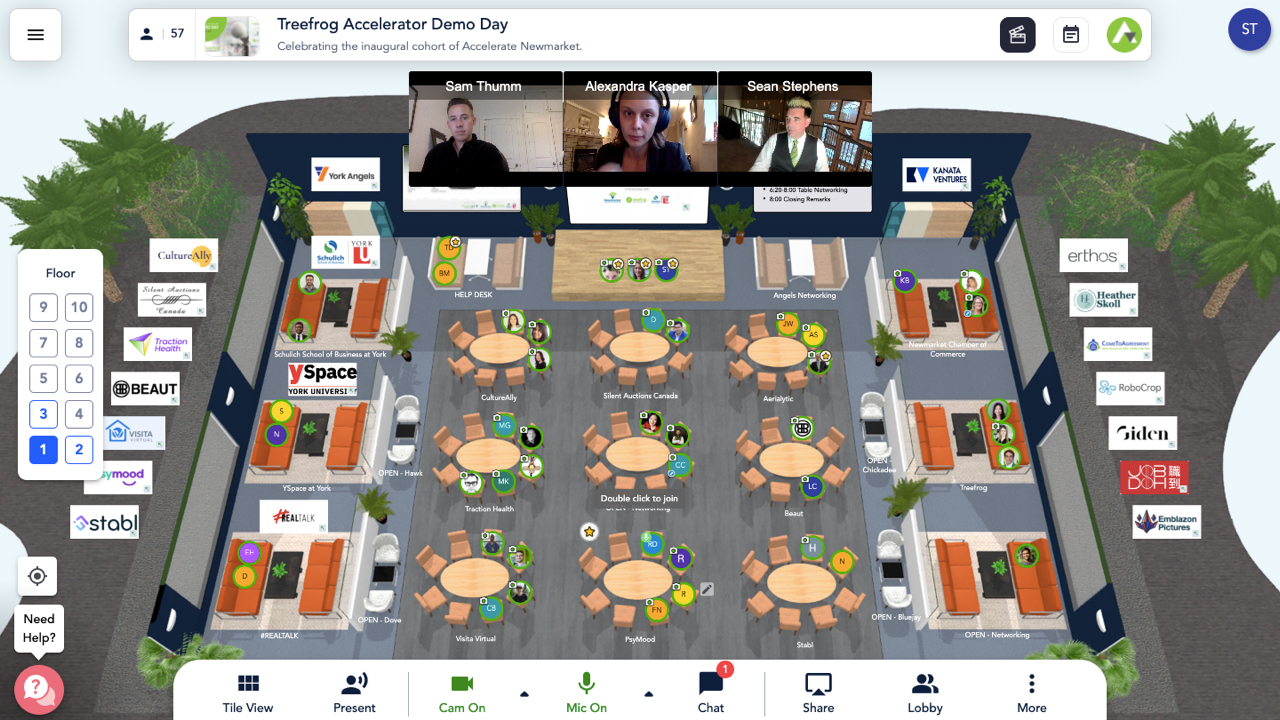 In early June, the first cohort of the Treefrog Accelerator set out on a path to complete a new 5-week business program, setting the stage for startups and founders to continuously learn and develop new skills, connect with local startup ecosystem leaders and investors, and improve their businesses. This culminated with a virtual open house on July 8th, where the participants could showcase their business to investors, stakeholders, partners and many others who tuned in to watch.
The very first Treefrog Accelerator cohort had an impressive 17 businesses and 25 participants. They took part in roughly 1,920 minutes of course content over five weeks, with 10 mentors and 27 speakers sharing their expertise and lessons learned. Below you'll find an overview of the companies in the graduating cohort and insights from their experience.
The Treefrog Accelerator program is part of a new initiative called Accelerate Newmarket – a collaborative business-focused program between the Newmarket Chamber of Commerce, Schulich School of Business at York University, and Treefrog. The participating organizations designed this program to support Ontario-based entrepreneurs and startups, while enhancing the local economy.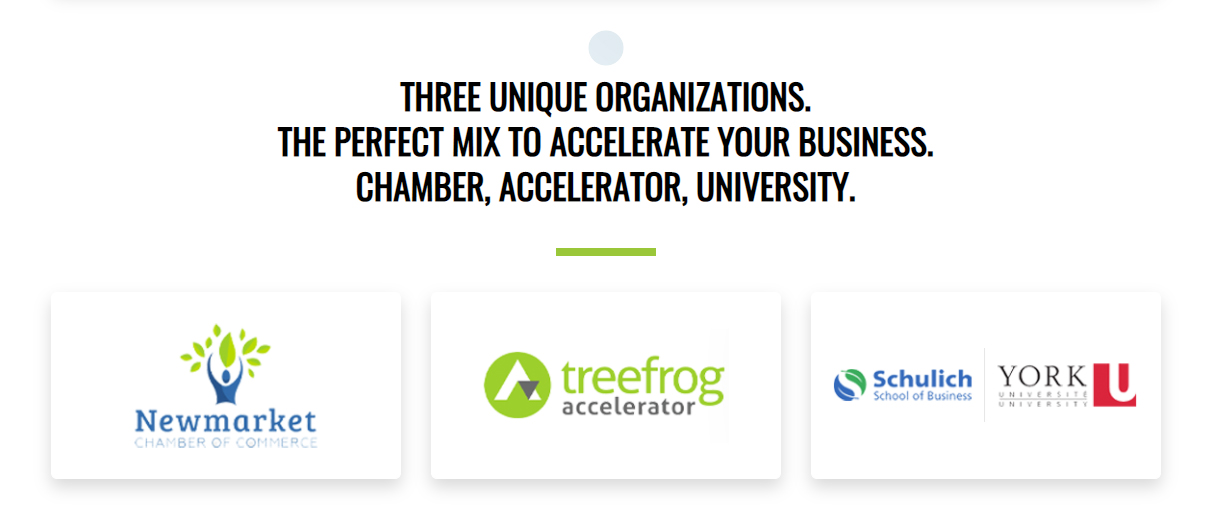 On the topic of this new program, Sean Stephens, CEO of Treefrog and Founder of the Treefrog Accelerator, had this to say: "We have some lofty aspirations for our Accelerator, including to exponentially drive and grow startups in our region, to connect and strengthen the regional business community through entrepreneur connections, and to call international attention to the thriving local tech ecosystem. In short: we are taking the bright light of York Region startups out from under a bushel so they can shine for the world."
York Region's economic development team was able to attend the virtual open house and we would like to extend our congratulations to all the participants!
This program will enhance the already thriving innovation ecosystem in York Region; especially for startups and entrepreneurs in northern York Region that are looking to take the next step with their business growth.

MEET THE COMPANIES FROM THE TREEFROG ACCELERATOR'S FIRST COHORT:
CultureAlly: A diversity and inclusion software designed to help employees and employers build a positive and inclusive workplace environment for all.
PsyMood: An online platform that directs individuals to specific mental health supports fitting cultural, religious, language, and reason of care needs.
Emblazon Pictures: An independent film production company with a focus on increasing collaboration between local filmmakers and producing Canadian content.
Beaut: A mobile app that helps connect users with hairstyles done by mobile hairdressers in their area using geolocation technology.
---
The Treefrog Accelerator journey was fascinating and filled with new learnings. The team at Treefrog was really supportive and empathized with our position. I recommend this to all founders who have begun their journey and want to make lifelong connections in the startup ecosystem.

Shreyash Ranjan, RoboCrop
---
Silent Auctions Canada: A full-service team managed auction provider for both in-person and virtual events.
Erthos: An advanced materials science company with a focus on developing 100% compostable alternatives to single-use plastics.
Stabl: A first of its kind digital health platform which allows physiotherapists to track and evaluate joint mechanics during virtual appointments.
Giden Media Technology: An online marketplace for interior designers to monetize their content while increasing manufacturer discoverability and creating marketing campaigns.
---
I loved the quality of workshops each morning, and always walked away feeling more educated than I had coming in.

Kritika Tyagi, Erthos Inc.
---
Come to Agreement: A collaborative software that supports family organization for divorced and separated couples.
JOBDOH: A smart-hiring platform that helps connect and eases record keeping for international and national employers hiring needed workers.
Traction Health: A network of wearable sensors which conduct real time monitoring of health and performance with the aim of first responder use.
Vidyaso: A cloud-based school management platform that allows students, teachers, parents, and school management to share information and operate smoothly.
---
The quality of content and expertise brought by the program was incredibly valuable! Being able to ask people questions that are in the startup world gets us closer to our goals.

Franco Buttazzone, Visita Virtual
---
Aerialytic: A software designed to support scaling in the solar sales and installation industry
Heather Skoll: A business focused on using technology to enhance accessibility to relaxation tools, reducing physical, mental, and emotional stress.
Visita Virtual: An online platform designed to conduct high quality virtual visits between residents in long-term care and their families.
RoboCrop: An AI applied design, to be used for automated seed farm inspections.

Interested in joining an upcoming cohort at the Treefrog Accelerator in Newmarket? They are currently accepting applications for new cohorts starting in August and September.