Tap Into The GTA's Business Potential
York Region is centrally located in the Greater Toronto Area – one of North America's largest business hubs – and is an in-demand location for high-skilled talent. With more than 55,000+ businesses already calling the Region home, discover why establishing your Canadian or GTA operations here is a great choice.
Central GTA Access
The Greater Toronto Area (GTA) is Canada's largest business hub. York Region – centrally located in the heart of the GTA – plays a significant role in the local and Canadian economy.
Locating your business in York Region creates opportunity around every turn. Whether your business is looking for new clients, strategic partners, or top-level talent, or all of that – it's here.
With interconnected access to downtown and the world, your business has every opportunity to thrive globally.
1.2+ million residents
616,000 local jobs (est. 2022)
1,300 new businesses annually (10-year average)
73% of residents have post-secondary education
$81.4 billion GDP (est. 2022)
5 of the Top 10 Greater Toronto Area's corporate Research & Development spenders
3rd largest business hub in Ontario (55,660 employers)
2nd largest ICT sector in Canada (4,600+ companies – highest density overall)
2nd largest Finance, Insurance & Real Estate sector in Ontario – 4,900+ firms
Canada's largest Auto Parts and Electronics manufacturing cluster
3rd largest Manufacturing sector in Ontario (2,500+ manufacturers)
4th largest Food and Beverage processing hub in Canada
Data sources: Statistics Canada, York Region Planning & Economic Development, Re$earch Infosource.
"62% of ICT businesses in the GTA are located in the 905 regions [including Toronto area's York Region], according to Statistics Canada."
– Avison Young | The Technology Sector in the Greater Toronto Area: A Multi-Market Success Story
The Region is home to a highly-skilled workforce and attracts world-class talent from the GTA and abroad.
Highest concentration of residents in tech occupations in the Toronto-Waterloo Corridor
3rd highest rate of university education among Canada's largest municipalities
73% of population has post-secondary education
22 of Toronto Area's top 25 neighborhoods [2017]
6 of GTA's Top 10 primary and secondary schools [2018]
5 of Greater Toronto Area's top 10 "best to live" cities and towns for new Canadians [2018]
Data Sources: Statistics Canada CBP, MoneySense Magazine, 2017/2018; Fraser Institute Ranking, 2017/18; Maclean's Magazine, 2018.
Your First Step To International Talent Starts Here
The Regional Municipality of York's Economic Strategy division is the designated pre-qualification and referral partner for companies in York Region aiming to access Canada's Global Skills Strategy programs.
500+ Foreign Companies Call York Region Home
If your company is thinking of expanding into the Greater Toronto Area, York Region is a central location with cost-saving advantages and home to an incredible talent pool. Our team is here to help!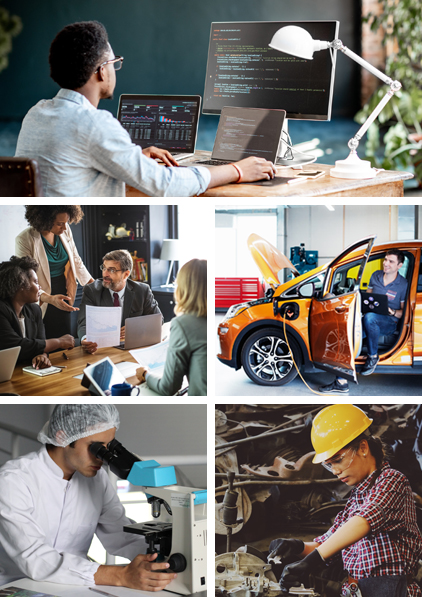 2 Employment Megazones
There are 4 employment 'megazones' across the Toronto Region.
4,600+ ICT Companies
Ready to join Canada's second largest tech hub and the #YRtech ecosystem?
18 Universities and Colleges
These world-renowned institutions are within commuting distance.
There is a flourishing climate of creativity and a strong entrepreneurial and innovation culture in York Region. There are a diverse range of innovation resources available to support entrepreneurs in the early stages, as well as, for companies with a need to scale-up an existing business venture.
The Regional Innovation Centre, ventureLAB, provides mentoring and programming to high-growth startups. Since 2011, companies supported by ventureLAB have raised more than $250 million in capital funding
"York Region has a strong regional ecosystem that regularly collaborates to provide
meaningful support to the tech community. We understand that it takes an ecosystem to
raise an entrepreneur…"
– Sarah Howe, (Former) Assistant Vice-President, Innovation & Research Partnerships | York University
Class-A Office To Co-Working
York Region is home to many significant office towers and business parks, but we also have over 30 co-working locations that provide opportunity for small businesses and entrepreneurs to access top-quality office space at a reduced cost. Many are supported by post-secondary institutions and global R&D companies including York University, Seneca College, IBM Canada, and others.
Spread throughout our 9 cities and towns these co-working spaces provide an opportunity to network and learn from other businesses. This helps to build a strong business community that also connects enterprise scale corporations with startups and entrepreneurs to help drive business growth and innovation.
"We selected this site [Canadian Technical Centre – Markham Campus] in Canada
because of its clear capacity for innovation, proven talent, great universities, start-ups,
and innovative partners."
– Ken Kelzer, (Former) Vice President, Global Vehicle Components and Subsystems | General Motors
Within the Greater Toronto Area, York Region offers operational cost-saving advantages for businesses looking to leverage Canada's largest business hub and the talent that lives here.
GTA's lowest municipal commercial and industrial property taxes
40% lower lease costs for Class A/B office versus downtown Toronto
Up to 15% lower salary costs for experienced professionals compared to the downtown core (commute time trade-off)
Range of location and cost alternatives across 9 local cities and towns
A range of space alternatives to suit any budget and operational need: from co-location to industrial flex to Class A/B/C office
Significant cost advantage versus the USA (taxes, employment, R&D)
Free office parking versus average of $315/month per spot in Toronto's downtown core
Eligibility for Federal Government and Provincial Government incentives (case specific)
"Being in York Region separates us from the noise of the downtown Toronto tech hub,
but still lets us be a big player in the SaaS world."
– Nima Chadha, VP of Marketing | Book4Time
Future-Focused Urban Growth
York Region is investing heavily in transit and other infrastructure to support growth throughout the Region, but with a specific focus on four urban growth centres in Markham, Newmarket, Richmond Hill, and Vaughan.
The Region's four urban growth centres are Markham Centre, Newmarket Centre, Richmond Hill Centre / Langstaff Gateway, and the Vaughan Metropolitan Centre
The only Region outside of the City of Toronto to have direct TTC subway access to Downtown Toronto
34 kilometres of Bus Rapid Transit, along with interconnectivity to the TTC, York Region Transit, VIVA, and GO Transit, and others make the Region highly connected without needing a vehicle