THE YORK REGION INNOVATION PORTAL
The York Region Innovation Portal is a centralized online space where you can explore resources for startups, shared office spaces, find job opportunities, discover business events, and other exciting news from the innovation ecosystem in York Region.
As one of Canada's key innovation engines and an economic powerhouse, York Region is home to a unique and exceptionally diverse network of accelerators, incubators, startups, small and medium-sized enterprises and multinational corporations.
While innovation spans all industries, new tech is the catalyst for driving change. The #YRtech ecosystem in York Region is home to over 4,600 ICT companies; one of the largest tech hubs in Canada. This makes the Region the place where talent and opportunity intersects for startups and innovators alike.
USE THE MENU TO EXPLORE: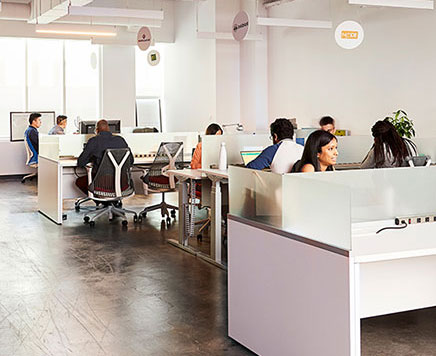 INNOVATION SUPPORTS & RESOURCES
York Region is home to many resources that help businesses succeed. From makerspaces helping create product prototypes, to business incubators providing support and guidance, we've compiled them all here in one quick and easy to use guide. Additionally, if you're looking for a quick way to find grants or subsidies check out Canada's Business Benefits Finder.
SHARED OFFICE & WORKSPACE OPTIONS
York Region has many options for businesses and entrepreneurs looking for shared office space and co-working office space throughout our nine cities and towns. The shared office space locations are organized individually for the southern three cities and towns – Markham, Richmond Hill, and Vaughan – and combined for the northern six communities of Aurora, East Gwillimbury, Georgina, King, Newmarket, and Whitchurch-Stouffville.
CAREER & WORKFORCE DEVELOPMENT TOOLS
We've partnered with the Workforce Planning Board of York Region to bring you exciting new interactive tools. These tools will assist companies in learning more about talent present in York Region. Job seekers can leverage the general and tech-focused job board to find new career opportunities in the place where talent and opportunity intersect!
INNOVATION ECOSYSTEM PARTNERS
The Regional Municipality of York collaborates with various partners on innovation-related initiatives to support the development of York Region's ecosystem including, but not limited to,
the following organizations and the York Region Innovation Leadership Group: