York Region ranks among the top 10 large municipalities in Canada for economic growth and development in a number of key performance indicators including top employers, job creation, and population growth. York Region is the third largest business community in Ontario. It is home to 1.2 million residents, 55,000 businesses, and 616,000 jobs.
Two of the three Greater Toronto Area 'employment mega-zones' are in York Region with a high concentration of companies in sectors such as ICT, financial services, engineering, building and construction, warehousing and logistics, and manufacturing.
In the next 20 years York Region is expected to grow to 1.8 million residents and 900,000 jobs. This is supported by exciting and developing urban growth centres – Markham Centre, Vaughan Metropolitan Centre (VMC), Richmond Hill Centre, and Newmarket Centre. These high density urban centres total 1,700 acres of mixed-use development area planned for major office employers needing access to talent, transit, and amenities.
Businesses in York Region achieve high levels of economic performance with leading positions in international and national top company indexes such as the Fortune 500, Profit 500: Canada's Fastest-Growing Companies, FP500: Largest Corporations in Canada, Top ICT Companies, Top R&D Spenders, and others.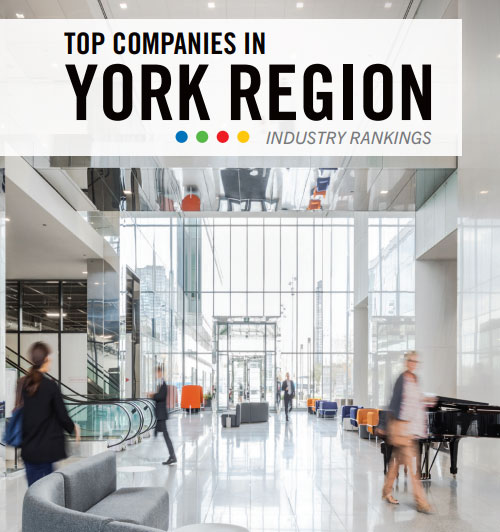 [Listed alphabetically]
407 ETR | Vaughan
AB Sciex LP | Vaughan
Acklands Grainger | Markham
Adidas Canada | Vaughan
Advance Forming | Vaughan
AECOM Canada | Markham
AGTA Home Health Care | Vaughan
Alfield Industries / Martinrea | Vaughan
Allstate Insurance Canada | Markham
Amico Corporation | Richmond Hill
Anton Manufacturing | Vaughan
Apotex | Richmond Hill
Associated Tube Industries | Markham
Aviva Canada | Markham
Bay Street Group | Markham
Bayshore Home Health | Richmond Hill
BGIS | Markham
Broadridge Customer Communications Canada | Markham
Brookfield Condominium Services | Markham
BV Glazing Systems | Vaughan
CAA Club Group | Markham
Camp Green Acres | Markham
Cam-Slide Manufacturing | Newmarket
Canada Computers | Richmond Hill
Canada's Wonderland | Vaughan
Canadian National Railways | Vaughan
Canadian Pacific Railway Vaughan Intermodal Terminal | Vaughan
Celestica | Newmarket
Century 21 | Vaughan
CGI Information Systems | Markham
Chartwell Aurora long Term Care Residence | Aurora
Clarke Transport | Vaughan
Co-Ex-Tec | Vaughan
Combined Insurance | Markham
Compugen | Richmond Hill
Condrain | Vaughan
Costco Distribution Centre | Vaughan
Creation Technologies | Markham
Debco Bag Distributors | Vaughan
Decor-Rest Furniture | Vaughan
Deloitte | Vaughan
Desjardins | Aurora
Dortec Industries | Newmarket
Dynamic Suspensions | East Gwillimbury
Empire Communities | Vaughan
Enercare Home Services | Markham
Extendicare | Markham
FedEx Ground | Vaughan
First Security | Markham
Flextronics Global- SunEdison | Newmarket
Ganz | Vaughan
GE Grid IQ Innovation Centre | Markham
General Motors Canada | Markham
Geo. A. Kelson | East Gwillimbury
Giesecke & Devrient | Markham
Global Credit & Collection | Markham
Grand & Toy | Vaughan
GFL Environmental | Vaughan
Greenpark | Vaughan
Hardrock Forming | Vaughan
Highlight Motor Group | Vaughan
Hilton Markham Suites | Markham
Home Depot SFC | Vaughan
Homelife Landmark Realty | Markham
Honda Canada | Markham
Honeywell ACS | Markham
Huawei Technologies Canada | Markham
Hydro One Networks | Markham
IAC | Vaughan
IBM Canada | Markham
Ikea | Vaughan
Intercity Realty | Vaughan
JELD-WEN Windows & Doors | Vaughan
Johnson & Johnson | Markham
Jonas Software | Markham
Kirchhoff Automotive | Aurora
Kleenway Services | Richmond Hill
Kohl & Frisch | Vaughan
KPMG | Vaughan
Les Plats Du Chef | Vaughan
Living Realty Inc. Brokerage | Markham
Magna International | Aurora
Magna P&F Tool & Die | Vaughan
Maple Stamping | Vaughan
Master's Trust Realty | Markham
Maxum Drywall | Vaughan
Mayfair Electric | Vaughan
MCA Merchandising Consultants Associates | Vaughan
Microart Services | Markham
Mircom Technologies | Vaughan
Mobile Climate Control Industries | Vaughan
Mobilelive | Richmond Hill
Modern Niagara | Vaughan
Morrison Hershfield | Markham
MSM Magna Powertrain | Vaughan
Multimatic | Vaughan
Mytox Manufacturing | Vaughan
Next Plumbing & Hydronics | Vaughan
Nielsen Canada | Markham
Noble Corporation | Vaughan
Nova Services Group | Vaughan
Novatech Patio Doors| Vaughan
NPL Canada | Vaughan
OpenText | Richmond Hill
OZZ Electric | Vaughan
Paymentus Canada | Richmond Hill
Priestly Demolition | King
Plan Group | Vaughan
Primo Mechanical | Vaughan
Priszm Canadian Income Funds | Vaughan
Real Fruit Bubble Tea | Markham
Recipe Unlimited | Vaughan
Remax Premier | Vaughan
Right At Home Realty | Richmond Hill
Rogers Communications | Richmond Hill
Rollstamp Manufacturing | Vaughan
Roni Excavating | Vaughan
Royal Building Products | Vaughan
Royal Lepage Your Community Realty Brokerage | Richmond Hill
Saputo Dairy Products | Vaughan
Scandinavian Building Services | Vaughan
Scholastic Canada | Markham
SCM Insurance Services | Markham
Select Drywall & Acoustics | Vaughan
Sheraton Parkway Hotel & Suites | Richmond Hill
SmartCentres | Vaughan
Smith and Long | Markham
Sobeys Retail Support Center | Vaughan
Soroc Technology | Vaughan
Spar Group | Vaughan
St. Joseph Communications | Vaughan
Stantec Consulting | Markham
Staples Canada  | Richmond Hill
Stars Technologies | Richmond Hill
Straw Construction Group | Vaughan
Structural Group of Companies | Whitchurch-Stouffville
Sutton Group Admiral Realty | Vaughan
TACC Construction | Vaughan
TC Transcontinental Printing | Aurora
TD Waterhouse | Markham
Teknion | Vaughan
Telecon Design | Vaughan
The Linkage Group | Markham
The Miller Group | Markham
Titanium Transportation Group | Vaughan
Tokmakjian | Vaughan
Torce Financial Group | Markham
Toro Aluminum  | Vaughan
Toromont Cat | Vaughan
Torstar Printing Group | Vaughan
Toshiba Canada | Markham
Trane Technologies | Markham
Trans Power Utility Contractors | Vaughan
Transdev Canada | Vaughan
TS Tech Canada | Newmarket
Tyco Security Products | Vaughan
UPS | Vaughan
Veoneer Canada | Markham
Vexos | Markham
Vision Extrusions Group | Vaughan
Voila' by Sobeys | Vaughan
W.H. Stuart & Associates | Markham
Woodbridge Foam | Vaughan
WorleyParsons | Markham
WSP | Markham
Source: York Region Employment Survey | 2022
[Listed alphabetically]
407 International | Vaughan
Acklands-Grainger | Markham
AirBoss of America | Newmarket
Allstate Insurance Canada | Markham
Andlauer Healthcare Group | Vaughan
Aviva Canada | Markham
Compugen | Richmond Hill
Enghouse Systems | Markham
Exco Technologies | Markham
Extendicare | Markham
GFL Environmental |Vaughan
KGHM International | Vaughan
Magna International | Aurora
Martinrea International | Vaughan
Pet Value Holdings | Markham
Real Matters | Markham
Sienna Senior Living | Markham
SmartCentres | Vaughan
SMTC | Markham
Smucker Foods of Canada | Markham
Toromont CAT | Vaughan
Waste Connections | Vaughan
Source: Financial Post | 2022
[Listed alphabetically]
Anatolia Tile & Stone | Vaughan
emergiTEL | Richmond Hill
Forest Group | Vaughan
G&L Group | Vaughan
Gentec International | Markham
K-Line Group | Stouffville
Mary Brown's | Markham
McIntosh Perry | Vaughan
Miller Waste Systems | Markham
Mircom Group | Vaughan
Priestly Demolition | King
Rex Power Magnetics | Vaughan
Shah Canada | Vaughan
State Window | Vaughan
Summer Fresh Salads | Vaughan
Turf Care Products Canada | Newmarket
Source: Deloitte | 2022
[Listed alphabetically]
Canadian National Railway Company | Vaughan
Canadian Pacific Railway |Vaughan
Cascades | Vaughan
Desjardins | Aurora
GHD Canada Holdings | Markham
Hatch | Markham
KPMG | Vaughan
OpenText | Richmond Hill
TD Bank | Markham
Source: Globe & Mail | 2023
[Listed alphabetically]
Alectra | Vaughan
Amazon Canada | Vaughan
AMD | Markham
Aviva Canada | Markham
CGI | Markham
CRH Canada Group | Vaughan
Home Depot Canada | Vaughan
Hyundai Auto Canada | Markham
KPMG | Vaughan
Mars Canada | Newmarket
Mazda Canada | Richmond Hill
Olympus Canada | Richmond Hill
Philips Canada | Markham
Sobeys | Vaughan
Techtronic Industries Canada | Markham
Walmart Canada | Vaughan
Source: Globe & Mail | 2023
[Ranked by largest revenue]
Compugen | Richmond Hill
CompuCom | Markham
TeraMach | Markham
Connex Telecommunications | Richmond Hill
SmartONE Solutions | Richmond Hill
FlexITy | Richmond Hill
F12.net | Markham
Carbon60 Networks | Richmond Hill
Data Integrity | Richmond Hill
CoreIO | Vaughan
QRX Technology Group | Vaughan
SolutionStack | Vaughan
Brains II Solutions | Markham
BAASS Business Solutions | Vaughan
R2i | Markham
ASCA Office Solutions | Vaughan
Document Direction | Vaughan
Digitcom Telecommunications | Markham
SmartPrint | Markham
Blair Technology Solutions | Markham
Infinite IT | Vaughan
MBC Managed IT Services | Richmond Hill
Source: Computer Dealer News | 2022 | Revenue Year: 2021
[Ranked by revenue growth]
All Value | Vaughan
Carbon60 | Richmond Hill
My Baskets | Vaughan
The Logistics Factory | Richmond Hill
Greenbrain | Richmond Hill
The Point Gallery and Step N' Sort | Vaughan
Innovative Vision Marketing | Richmond Hill
Print Geek | Vaughan
E.B. Box Co. | Richmond Hill
SolutionStack | Vaughan
Amar Transport | Vaughan
Student Works Management Program | Markham
Unite Communications | Markham
HomePro Pest Control | Markham
CompTrak | Aurora
Wyse Meter Solutions |Vaughan
Mactrans Logistics | Vaughan
Pliteq | Vaughan
TalentSphere Staffing Solutions | Richmond Hill
DSMA | Markham
Simpli Home | Vaughan
Rescue 7 | Markham
Jonluca Enterprises | Vaughan
ASTRAPAC | Markham
Engage People | Markham
Source: The Globe & Mail | 2022
[Ranked by 2021 revenue]
Magna International | Aurora
AMD Canada | Markham
Enghouse Systems | Markham
Celestica | Newmarket
Martinrea International | Vaughan
Sangoma Technologies | Markham
TECSYS | Markham
Source: Re$earch Infosource | 2022
[Listed alphabetically]
Anatolia Tile and Stone | Vaughan
emergiTEL | Richmond Hill
Forest Group | Vaughan
G&L Group | Vaughan
Gentec International | Markham
K-Line Group | Stouffville
Mary Brown's | Markham
McIntosh Perry | Vaughan
Miller Waste Systems | Markham
Mircom Group | Vaughan
Priestly Demolition | King
Rex Power Magnetics | Vaughan
Shah Canada | Vaughan
State Window | Vaughan
Summer Fresh Salads | Vaughan
Turf Care Products Canada | Newmarket
Source: Deloitte | 2022