York Region: Future Focused
York Region is a fast-growing area in the Greater Toronto Area focused on building transit and investing in modern infrastructure ahead of development growth to promote sustainability. Whether it's new office or residential developments, York Region is future focused.
By 2051, York Region's population is anticipated to grow to over 2 million people and the economy will be supporting almost 1 million local jobs.
Much of York Region's growth is allocated to four regional centres: Markham Centre, Vaughan Metropolitan Centre (VMC), Newmarket Centre, and Richmond Hill/Langstaff Gateway Centre. These master-planned, mixed-use communities offer residents and businesses an opportunity to live and work in areas focused on walk-ability and access to transit through our two regional corridors: Yonge Street and Highway 7. Corridors include major transit station areas and lands along the Yonge Street, Highway 7, Davis Drive and Green Lane rapid transit corridors.
Among York Region's nine local municipalities, the cities of Markham, Vaughan and Richmond Hill are expected to see continued growth with an approximate average of 2% increase per year in both population and employment between 2016 and 2051.
Toronto-York Spadina Subway Extension
Running north from Sheppard West Station to Vaughan Metropolitan Centre at Highway 7, the Toronto-York Spadina Subway extended Toronto's Line 1 by 8.6 kilometres and six new stations – the first outside Toronto city limits. This extension opened for service in December 2017.
Yonge North Subway Extension
The Yonge North Subway Extension will transform the commute in York Region, Toronto and beyond by extending the TTC's Line 1 service north from Finch Station to Vaughan, Markham and Richmond Hill. The latest plans propose five stations along an extension of 8 kilometres (approximately 5.9 kilometres in York Region).
Regional Bus Rapid Transit
In 2022, York Region Rapid Transit Corporation completed 34 kilometres of dedicated bus rapid transit lanes and 38 vivaNext Bus Rapid Transit stations on Highway 7, Yonge Street and Davis Drive.
Metrolinx GO Transit
GO Transit is Ontario's commuter rail service. Metrolinx service expansion is underway to provide service in both directions with more frequent trips connecting the communities in York Region with Toronto.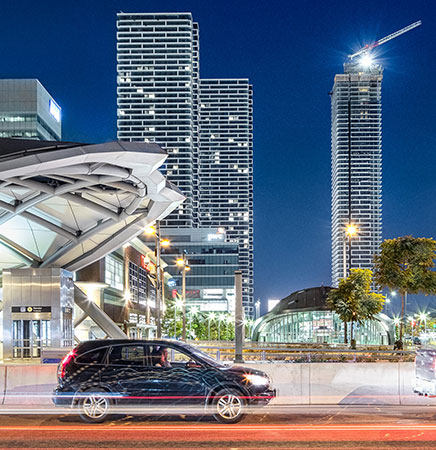 The Regional Centres and Corridors connect communities and combine pedestrian-friendly, walkable communities with access to transit, jobs, and the Greater Toronto Area.
York Region has undergone a multi-billion-dollar investment from all levels of government for major public infrastructure investments in transit, highway, and broadband projects to support local economic and population growth.
As York Region continues to grow, these infrastructure investment priorities provide sustainable travel options to major business hubs, higher learning institutions, major healthcare centres and other destinations.
"Subways unlock new travel choices for all commuters. With 56,000+ businesses already within York Region, this transit investment will help drive national, provincial and regional prosperity."
– Wayne Emmerson, Chairman & CEO | The Regional Municipality of York