Urban Growth
In the next 20 years, York Region's population is expected to grow to 1.8 million residents and the economy will be supporting 900,000 local jobs.
With an eye to the future growth in the GTA, York Region is leading the way in North America for the urbanization of formerly suburban metro area communities.
With four provincially designated 'urban growth centres' – Markham Centre, Vaughan Metropolitan Centre, Richmond Hill Centre / Langstaff Gateway, and Newmarket Centre – that are master-planned, mixed-use communities. It offers residents and businesses an opportunity to live and work in areas that are focused on walk-ability and access to transit!
2 Subway Stations; More Coming
York Region is the only Region outside of Toronto connected to the subway.
4 Sought-After Growth Centres
These desired high-density areas provide big-city living at a lower cost.
34km of Bus Rapid Transit Lanes
Rapid transit keeps gives your team reliable options to get to work.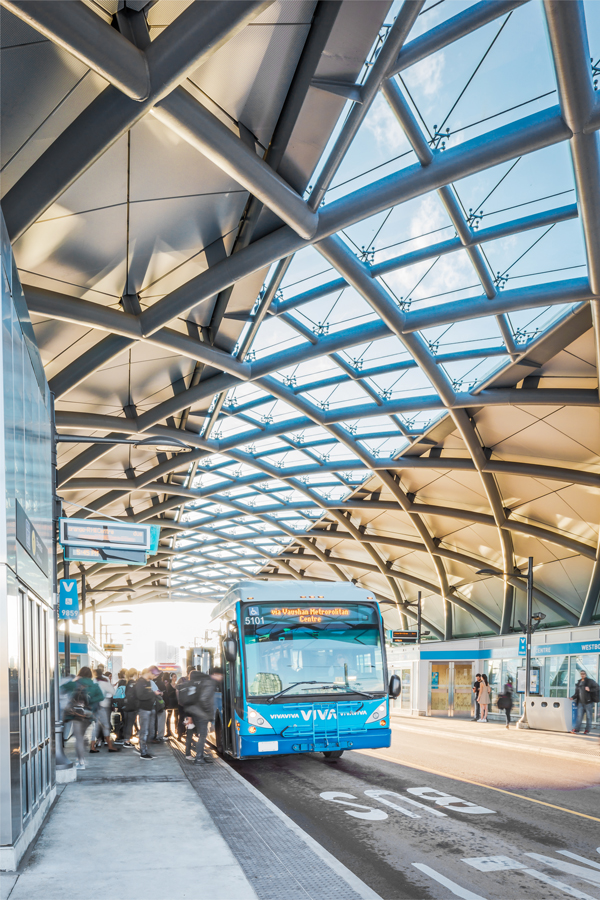 Infrastructure Growth
The Region has undergone a multi-billion-dollar investment from all levels of government for major public infrastructure investments in transit, highway, and broadband projects to support local economic and population growth. That means accessibility, mobility, and reduced congestion are top infrastructure investment priorities and include projects such as, but not limited to:
Toronto's TTC subway extension into the Region with a new six-stop line 1 extension to the City of Vaughan; the first outside Toronto city limits and development of a second subway extension line to York Region is underway connecting Richmond Hill and Markham to downtown Toronto
The completion of vivaNext bus rapid transit lanes on Highway 7, Yonge Street, and Davis Drive, in the Region's four urban growth centres in Markham, Newmarket, Richmond Hill, and Vaughan
Ontario's commuter rail service – GO Train – is expanding its electrified train service in both directions with more frequent trips connecting the communities in York Region with Toronto