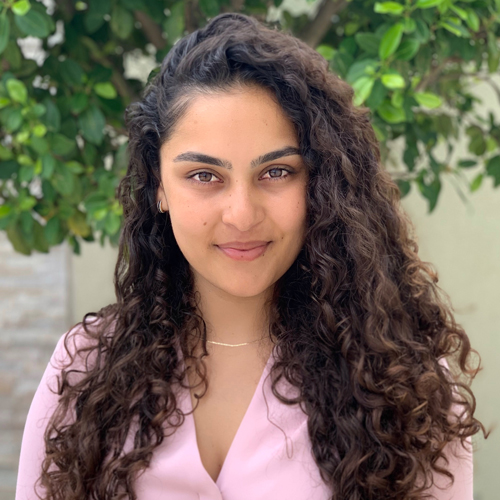 There's a lot of behind-the-scenes work that goes into developing and delivering projects that support the goals outlined in the 2020-2023 York Region Economic Development Action Plan. Some of that work is completed by students that regularly join the team for a term.
Student placements are a great opportunity to gain real world experience as they complete their post-secondary education. These placements may only last for four months at a time, but those individuals who join us are part of the team from day one and play an integral role in delivering our services.
In this edition of our team spotlight series, we connect with Elya Djaffar, Agriculture & Agri-Food Project Assistant to our Agri-Food lead, Meena Hassanali. Fresh off a successful 2021 Agri-Food Forum, we caught up with Elya to give us the rundown on what she's been doing with the York Region Economic Development team. 

You're now heading into your final month as part of our team for this placement term, can you help our audience understand what you've been doing with us?
As a Project Assistant, I assist the Economic Strategy team with coordinating Agriculture and Agri-food related projects across the Region. This term, I have been involved with the planning and the execution of the 2021 Agri-Food Forum, held in partnership with the Ontario Ministry of Agriculture, Food and Rural Affairs (OMAFRA).
A key objective for this year's Forum was to further establish York Region as an innovation hub for agriculture and agri-food sector and to showcase local businesses and their resilience in light of the COVID-19 pandemic.
What's been your favorite part of the job?
My favorite part about my job is being able to help create a cohesive community for everyone involved in the Agri-Food sector, from producers, food processors, to government organizations. In York Region, the Agri-Food industry is ever-changing and exciting!
It is a creative and dynamic sector where learning and working with others creates room for endless collaboration and success. Organizing an event of this importance has allowed me to learn from extremely hard-working and dedicated team members, as well as connect with a wide array of stakeholders – in short, making it the perfect line for work for a people-person like me!
How do you unwind when you're not at work?
Even when I'm not at work, I like to keep active. Most of my hobbies reflect the different environments I grew up in. These places all have a particular place in my heart, but when I reminisce the chaotic Kenyan lifestyle, I find myself enlarging my Afro-beats playlist. The French lifestyle excites me, thus, on my free time, I love watching soccer and exploring different bakeries across Toronto! When I am nostalgic about the un-hurried Malagasy lifestyle, I like to take long walks by the waterfront.
Before we let you get back to work, what's something notable our readers should know about you?
Growing up in Madagascar and in Kenya, I have always admired my rich cultural background. During the pandemic, my sister and I founded QuinteScent Heritage, a line of premium essential oil blends.
This project is nourished by the rituals and traditions found across the Indian Ocean region, where each community possesses a strong cultural heritage. We have forged strong bonds with passionate essential oil producers across East Africa, the Vanilla Islands, and Southeast Asia to protect their invaluable know-how and to ensure that our trade remains sustainable and fair.