York Region Economic Development's monthly e-newsletter shares highlights and news from the business community, small business supports, events, economic data, and more.
IN THIS ISSUE
BUSINESS COMMUNITY & INVESTMENT NEWS HIGHLIGHTS
SMALL BUSINESS & ENTREPRENEURSHIP HIGHLIGHTS
YORK REGION ECONOMIC DATA
COVID-19 BUSINESS SUPPORT
BUSINESS EVENTS & OTHER INFORMATION
BUSINESS COMMUNITY & INVESTMENT NEWS HIGHLIGHTS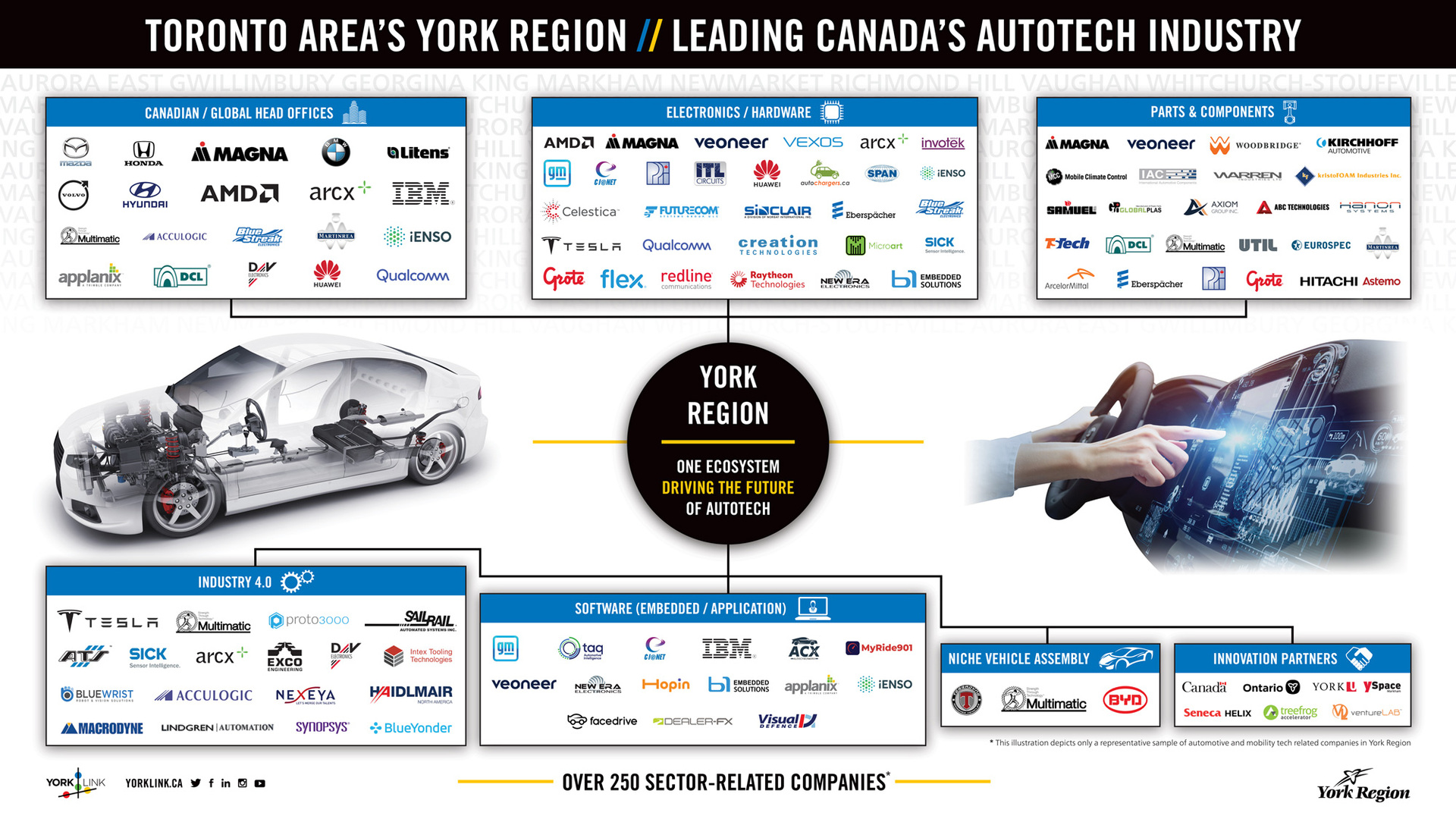 York Region // Leading Canada's AutoTech Industry
With over 250 automotive and mobility tech related companies in Toronto Area's York Region, it's one of the largest hubs in Canada. Our new AutoTech sector map highlights a selection of the major companies that are driving AutoTech innovation forward. READ MORE
---
Tesla to Open Canada Battery Gear Factory in Markham
The facility will be the first branded Tesla Canada manufacturing facility in Canada and will produce state-of-the-art manufacturing equipment to be used at the Giga factories located around the world in the production of batteries. READ MORE
---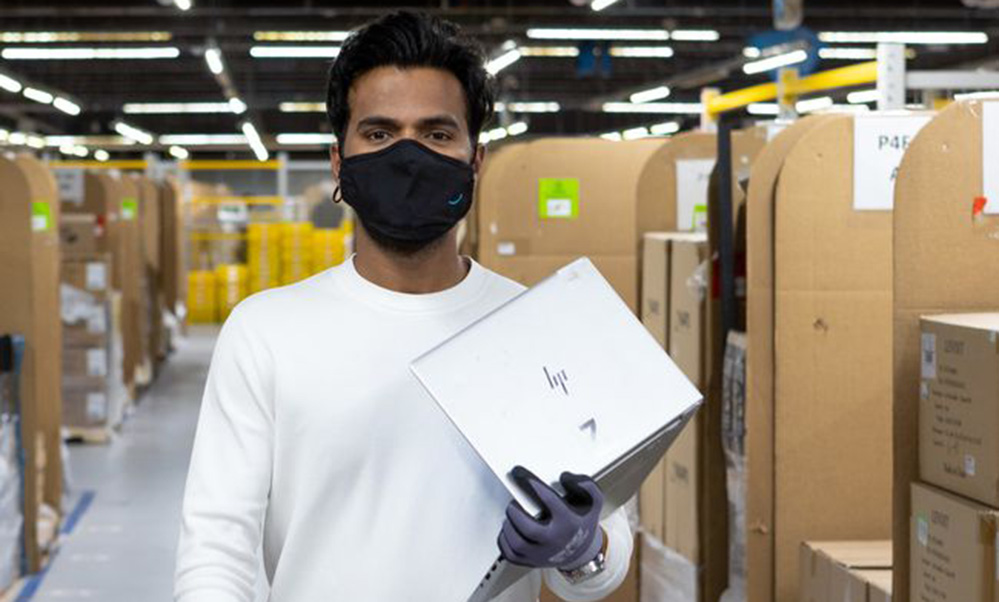 Amazon's New Delivery Station Set to Bring 400 Jobs to Richmond Hill
Targeted to open in early 2023, the new facility is expected to bring 400 new jobs to the city, including over 200 full-time positions, which offer comprehensive benefits for employees starting on day one. READ MORE

CHECK OUT A RECENT YORK LINK SOCIAL POST
FOLLOW US ON YOUR FAVORITE SOCIAL MEDIA

SMALL BUSINESS & ENTREPRENEURSHIP NEWS HIGHLIGHTS
York Region Agriculture and Agri-Food Virtual Tour
From food startups to productive farmlands, York Region's agriculture and agri-food sector is an important part of our local economy. Check out our new video for your own personal tour of York Region! WATCH VIDEO
Want more agri-food news? Subscribe to York Region's Agri-Food E-Newsletter.
---

York Region Local Directors' Movies Screening at the Toronto Reel Asian International Film Festival
This year's festival lineup consists of 81 films from all over the world. Newmarket-raised director Albert Shin and Markham-raised Ganesh Thave's have been invited to the festival. READ MORE
---
Are You a Black Food & Beverage Entrepreneur? Apply Now for Cohort 2 of the Product Feasibility Bootcamp!
In partnership with the Black Creek Community Health Centre, Black Creek Community Farm, York University TD Community Engagement Centre, YSpace have launched the Product Feasibility Bootcamp. This new and free 10-week virtual program is designed to support Black entrepreneurs and restauranteurs with a food or beverage product go from ideation to a full feasibility study, giving them the confidence to proceed with their business idea! Gain free-of-charge access to workshops, mentors, a network of peers & more. READ MORE
Want more small business news? Subscribe to the Small Business E-Newsletter

YORK REGION ECONOMIC DATA
Unemployment Rates (%) | 2019 – 2021*
*Statistics Canada, Labour Force Characteristics, 3-month moving average, unadjusted for seasonality, October 2021
CMA – Census Metropolitan Area
---
Greater Toronto Area New Home & Condo Sales | September 2021
Source: Altus Group

COVID-19 BUSINESS SUPPORT
Federal Government Announces New Targeted COVID-19 Business Support
The Government of Canada confirmed that certain existing income and business support programs ended on October 23, 2021, as previously announced. This includes the Canada Emergency Wage Subsidy and the Canada Emergency Rent Subsidy. In place of these expiring programs, the government is proposing new targeted programs for businesses still struggling with revenue decline. READ MORE
---

Recommendations for Establishing a COVID-19 Workplace Vaccination Policy and Sample Policy Template
Employers have an obligation to maintain a safe work environment for their workers. To help reduce the risk of COVID-19 transmission, a workplace vaccination policy is an important measure that employers should implement.
York Region's Acting Medical Officer of Health strongly recommends all local employers institute and ensure compliance with a workplace COVID-19 vaccination policy to protect workers and the public from COVID-19. This recommendation applies to those employers not included within related provincial vaccine policy directives.
Recommendations for Establishing a COVID-19 Workplace Vaccination Policy
COVID-19 Workplace Vaccination Policy Sample Template
For more information in how businesses and organizations can prevent the spread of COVID-19, go to york.ca/COVID19ForBusiness
---
COVID-19 Business Resources & Funding Programs Overview
To help you make sense of all the available funding programs and resources, we continue to update our COVID-19 Business Resource page. This page contains information on supports announced by the federal, provincial, and municipal governments, as well as, events, and other pertinent information to impacted businesses. You can find information on all programs such as the Canada Emergency Wage Subsidy, Canada Recovery Hiring Program, and more, over on our dedicated COVID-19 support page.
BUSINESS EVENTS & OTHER INFORMATION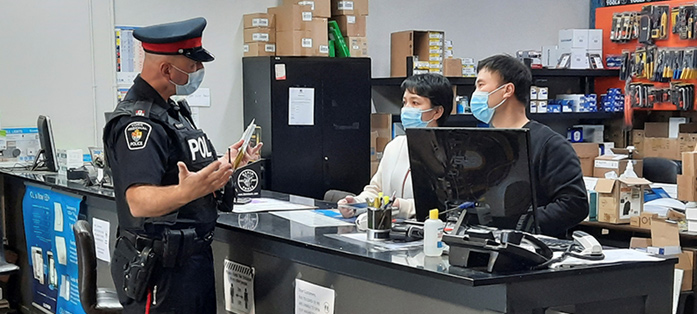 York Regional Police Looking for Business Owner Feedback
York Regional Police is reaching out to local business owners for feedback in order to understand community challenges and set policing priorities in line with business and community needs. They are inviting York Region business owners to complete this short survey by December 10th, 2021. Should you have any questions, please contact Jennifer Gotlieb at 905-830-0303 at ext. 2052 from the York Regional Police Planning, Research & Evaluation Unit, or email planning@yrp.ca with any questions. TAKE THE SURVEY
---
A Selection of Upcoming Business Events:
11/17 | OCI Market Readiness: Leveraging & Commercializing Academic IP | ventureLAB
11/17 | Market Research Virtual Session | YSBEC
11/22 | Partners in Tourism Symposium | Central Counties Tourism

Subscribe to our other monthly e-newsletters on these topics:
YORK REGION BUSINESS UPDATE / AGRI-FOOD / SMALL BUSINESS
---
York Link | York Region Economic Development
The York Link team are here to help and are committed to supporting local businesses. We are still providing business advisory and consultation services, information on business resources, support for startups, and more in a virtual capacity at this time.