York Region Economic Development's monthly e-newsletter shares highlights and news from the business community, small business supports, events, economic data, and more.
IN THIS ISSUE
BUSINESS COMMUNITY & INVESTMENT NEWS HIGHLIGHTS
SMALL BUSINESS & ENTREPRENEURSHIP HIGHLIGHTS
YORK REGION ECONOMIC DATA
BUSINESS EVENTS & OTHER INFORMATION
BUSINESS COMMUNITY & INVESTMENT NEWS HIGHLIGHTS
York Region's Innovators | High-Tech Vertical Farming
In partnership with the Financial Post, we've developed a new series, Dream Big(ger): York Region's Innovators, to highlight innovative companies and people in York Region. Over the next few weeks we'll be sharing these stories to showcase our robust local innovation ecosystem and the inspiring people who work in it.
We're kicking it off with Brandon Hebor, Founder of Boreal Greens Co.
He launched the vertical farming agri-business a little over two years ago in Markham after taking part in Seneca College's innovation and entrepreneurship incubator, HELIX. It has since moved to the Township of King where, just like the plants it grows, it has flourished. 
---
Key Ingredients to the Success of York Region's AutoTech Ecosystem: Industry Leaders, Infrastructure, and Talent
With a combination of an industry-leading auto parts manufacturing base, a high concentration of automotive head offices and an AutoTech ecosystem building for the future of transportation. York Region's automotive sector is well-positioned to continue to innovate and make substantial contributions to Canada's and North America's automotive industry of the future.
---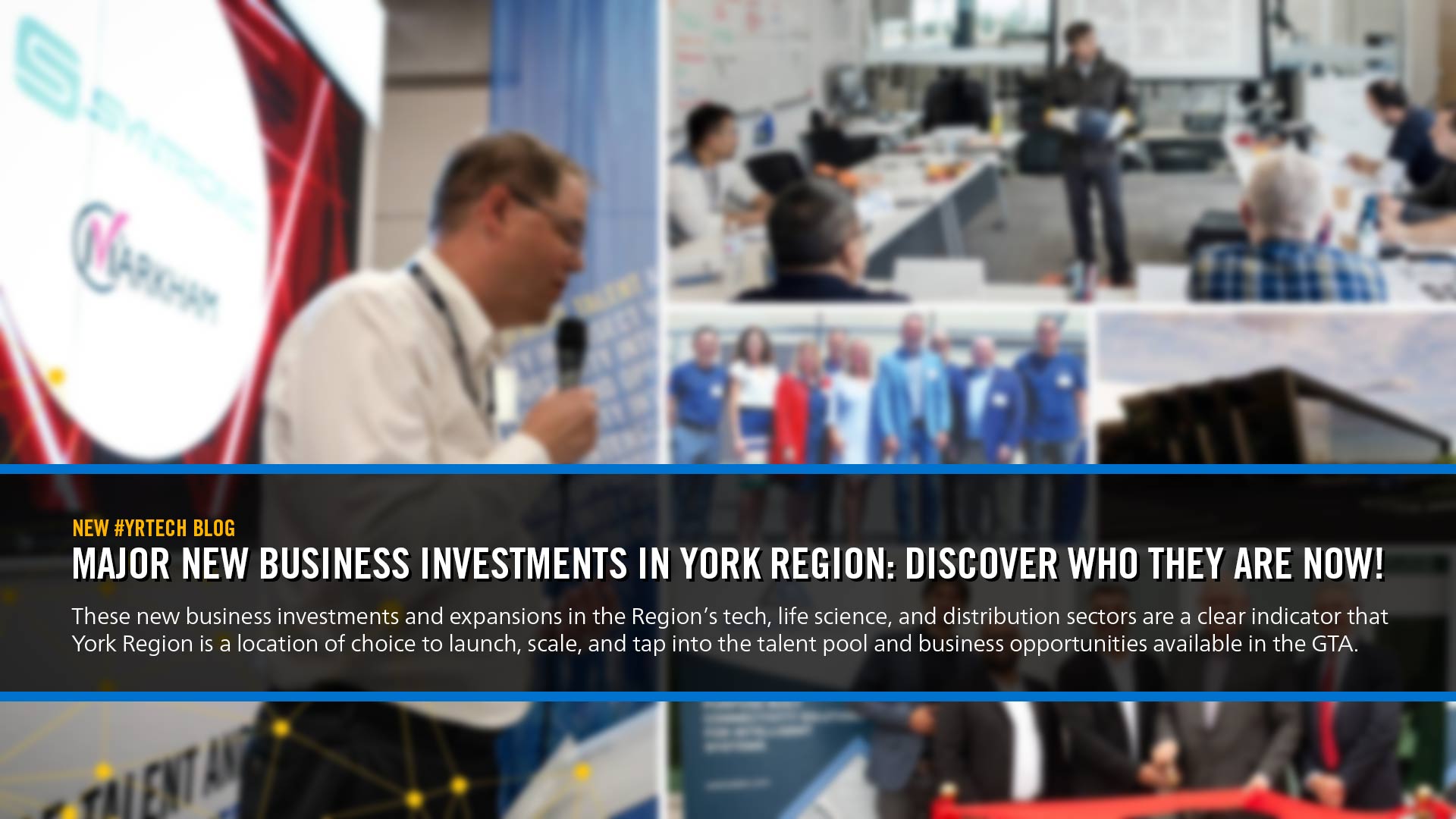 Major New Business Investments in York Region: Discover Who They Are Now!
These new investments and expansions are a result of a variety factors, but York Region's centrality in the GTA and its wealth of highly skilled talent are a common thread throughout these investment and expansion announcements. Discover who they are now. 
---
Markham-Based Bittele Enhances PCB Assembly Facility
Bittele Electronics, a Markham-based printed circuit board (PCB) manufacturer specializing in prototype and small-to-mid volume printed circuit board assembly, announced the expansion of its Markham PCB assembly facility. Bittele has expanded its component warehouse to provide more storage space for consigned inventory since extended part lead times still plague the component market.

SMALL BUSINESS & ENTREPRENEURSHIP NEWS HIGHLIGHTS
Local Agri-Food Business Spotlight: Turkey Shoot Brewing Company
There's nothing we love more than getting into our community and talking to local business owners. We're excited to bring you a new local agri-food business spotlight, featuring Turkey Shoot Brewing Company, from the Town of Georgina!
Kyle and Jacyln Stewart opened their microbrewery, tap room and bottle shop in April 2021 with a focus on local. "We try to stay true to our local community as much as possible, and that includes everything from the ingredients to the design of the cans," said Kyle. 
Want more agri-food news? Subscribe to York Region's Agri-Food E-Newsletter
---
York University Opens New YSpace Location in Northern York Region
In partnership with the Towns of Georgina and East Gwillimbury, York University has officially opened a new YSpace location in northern York Region – supporting local start-ups and existing businesses during the recovery phase of the COVID-19 pandemic. The new YSpace Georgina Business Incubator/Accelerator Hub offers computer access, video conferencing solutions, tools for e-commerce and online content creation, collaboration spaces and much more. 
---
Join Us for the 2022 Summer Company Showcase
Our Summer Company students will be on-site at Upper Canada Mall on August 18, from 11:30 a.m. to 2 p.m.
Meet and greet local ambitious students from the program as they promote their businesses, and join us in celebrating their hard work and dedication. Each summer, in partnership with the Government of Ontario, the York Small Business Enterprise Centre administers the Summer Company program to teach youth important skills in entrepreneurship.
Want more small business news? Subscribe to the Small Business E-Newsletter
---
Explore Indigenous Business Resources
York Region is home to diverse communities, and its land is located on the traditional territory of many Indigenous peoples such as the Anishinaabeg, Haudenosaunee, Huron-Wendat and Métis peoples, the treaty territories of the Haudenosaunee, Mississaugas of the Credit First Nation and Williams Treaties First Nations including the Chippewas of Georgina Island First Nation. We've gathered a list of resources for Indigenous business owners. VIEW RESOURCES

YORK REGION ECONOMIC DATA
Unemployment Rates (%)*
*Statistics Canada, Labour Force Characteristics, 3-month moving average, unadjusted for seasonality
CMA – Census Metropolitan Area

BUSINESS EVENTS & OTHER INFORMATION
A Selection of Upcoming Business Events:
08/23 | FUNDING FOR CANADIAN MANUFACTURERS | Mentor Works
08/30 | BUSINESS FOUNDATIONS: CUSTOMER SERVICE 101 | YSpace
09/08 | WOMEN IN TECHNOLOGY: STAYING RELEVANT | TechConnex

Subscribe to our other monthly e-newsletters on these topics:
YORK REGION BUSINESS UPDATE / AGRI-FOOD / SMALL BUSINESS
---
York Link | York Region Economic Development
The York Link team are here to help and are committed to supporting local businesses. We are still providing business advisory and consultation services, information on business resources, support for startups, and more in a virtual capacity at this time.