York Region Economic Development's monthly e-newsletter shares highlights and news from the business community, small business supports, events, economic data, and more.
IN THIS ISSUE
COVID-19 BUSINESS SUPPORT
BUSINESS COMMUNITY & INVESTMENT NEWS HIGHLIGHTS
SMALL BUSINESS & ENTREPRENEURSHIP HIGHLIGHTS
YORK REGION ECONOMIC DATA
BUSINESS EVENTS & OTHER INFORMATION
COVID-19 BUSINESS SUPPORT
COVID-19 Business Resources & Funding Programs Overview
To help you make sense of all the available funding programs and resources, we continue to update our COVID-19 Business Resource page. This page contains information on supports announced by the federal, provincial, and municipal governments, as well as, events, and other pertinent information to impacted businesses. You can find information on all programs such as the Canada Emergency Wage Subsidy, Canada Recovery Hiring Program, and more, over on our dedicated COVID-19 support page.

BUSINESS COMMUNITY & INVESTMENT NEWS HIGHLIGHTS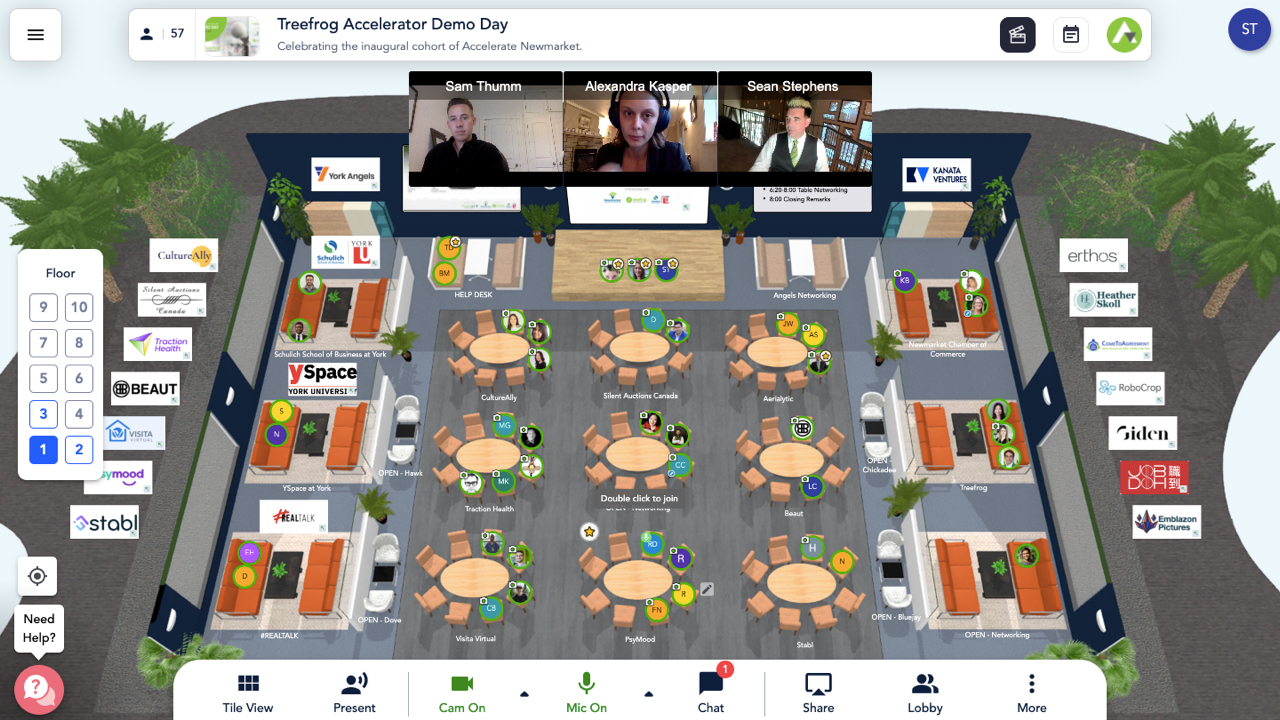 New Accelerator in Northern York Region Brings Increased Opportunity for Startups as First Cohort Graduates
A new business accelerator in Newmarket recently graduated its first cohort and is currently accepting applications for a new cohort. Read more about this group of companies and how the Treefrog Accelerator is looking to support businesses in Northern York Region and beyond. The accelerator supports businesses of all kinds and is currently accepting applications for a new cohort. Will your business be next? READ MORE
---
GE Hitachi Nuclear Energy Invests in Ontario Jobs at Markham Headquarters
GE Hitachi Nuclear Energy (GEH) today announced the creation of 80 highly skilled jobs in Ontario to support the deployment of BWRX-300 small modular reactors. READ MORE
---
The Best Built Robot in the World, Siemens Enhances the HCI, and New Career Opportunities: York Region Tech Makes a Big Impact
With news about new partners at Canada's only hardware and semiconductor incubator, opening facilities to increase digital connectivity, new career opportunities, and the next generation of tech innovators making a name for themselves on a global stage, the Region's tech ecosystem is thriving. READ MORE

CHECK OUT A RECENT YORK LINK TWEET
FOLLOW US ON YOUR FAVORITE SOCIAL MEDIA

SMALL BUSINESS & ENTREPRENEURSHIP NEWS HIGHLIGHTS
Are You A Female Tech Entrepreneur Wanting To Grow Your Business? Apply for Tech Undivided; Applications Accepted Until August 31st
Tech Undivided bridges gender and diversity gaps by better supporting women founders and leaders, who are underrepresented within the tech sector. Tech Undivided goes beyond technology and business support by curating a supportive community focused on equality, open dialogue, and overcoming obstacles.
This comprehensive 6-month program supports women-led tech companies to grow their businesses. Applications are open until August 31st, 2021 for the next cohort. READ MORE
---
Quarantine Chronicles: How a Local BIPOC, Female-Founded Business Shifted Gears Through the Pandemic
The York Small Business Enterprise Centre supports hundreds of entrepreneurs and small business owners each year. Based in
We are Isabelle and Jamie, co-founders of Remix Snacks – a BIPOC, female-founded snack company dedicated to making healthy, plant-based snacks. After meeting at McGill University studying Dietetics and Nutrition, the two of us realized we had more than just our passion for health and coming from our hometown of Markham, Ontario in common. READ MORE
Want more agri-food news? Subscribe to York Region's Agri-Food E-Newsletter.
---
Summer Company Entrepreneur Supporting South Asian Women's Centre
Our team at the York Small Business Enterprise Centre has been busy running the 2021 Summer Company program. This program helps students who have an interest in entrepreneurship by guiding them through the process of starting their own summer business. Abhi is one of our Summer Company participants who was recently featured in The Auroran newspaper. Check out her interview to learn more about her passion for entrepreneurship and how she shifted her business to support an important cause.
READ MORE | VIEW ALL 2021 SUMMER COMPANY PARTICIPANTS
Want more small business news? Subscribe to the Small Business E-Newsletter

YORK REGION ECONOMIC DATA
Unemployment Rates (%) | January 2019 – June 2021*
*Statistics Canada, Labour Force Characteristics, 3-month moving average, unadjusted for seasonality, August 2021
CMA – Census Metropolitan Area
---
Greater Toronto Area New Home & Condo Sales | June 2021
Source: Altus Group

BUSINESS EVENTS & OTHER INFORMATION
SAVE THE DATE / 2021 Agri-Food Forum Hosted By York Region | Nov 3rd – 4th 
York Region is expected to grow to 2,020,000 people and 990,000 jobs by 2051. To support this growth, the Transportation Master Plan is being updated and York Region would like your input to update the TMP and shape the vision, guiding principles and long-term goals that will support community growth to 2051. Whether you walk, bike, drive or take transit, we invite you to participate in the process and attend our virtual Public Information Centre. READ MORE | REGISTER
---
Take The 2022 York Region Transportation Master Plan Business Survey
York Region is conducting a survey to gain insights into how citizens travel for work within York Region and surrounding communities. We are reaching out for both employee and employer perspectives. Data collected will help us inform the Transportation Master Plan update, the guiding document for planning walking, cycling, transit, and road improvements to the year 2051. TAKE THE SURVEY
---
A Selection of Upcoming Business Events:
08/19 | Canadian Grants for Manufacturers | Mentor Works
08/24 | Web Presence 101 – Ensuring Your Foundation is Set | Digital Main Street
09/06 | Tourism Mastermind Group | Georgina Chamber of Commerce

Subscribe to our other monthly e-newsletters on these topics:
YORK REGION BUSINESS UPDATE / AGRI-FOOD / SMALL BUSINESS
---
York Link | York Region Economic Development
The York Link team are here to help and are committed to supporting local businesses. We are still providing business advisory and consultation services, information on business resources, support for startups, and more in a virtual capacity at this time.