The challenges of the pandemic altered how companies and employees look at their physical office space. While many organizations moved to a work from home format over the past two years, the lifting of health restrictions has meant that many industries are transitioning workers back to the office; be it part-time or full-time. But when the company's needs changed, so did employees. Now many are less willing to make long commutes and they're looking for on-site work closer to home.
The transition to a hybrid model with employees coming on-site when needed is picking up speed. Many of these companies are now looking for 'spoke'.
The hub-and-spoke office model pushes companies to reconsider a single central location and instead have a primary head office with smaller 'spoke' locations placed closer to where their employees live. Giving staff the option to come into the office with more accessibility and comfort.
How could this look for your business?
Building your spoke in York Region, would give your company access to 1.2 million residents, more than 55,000+ businesses, 20% of the GTA's STEM and business graduates, and the highest concentration of residents employed in tech within the Toronto-Waterloo Corridor. That's great for your talent recruitment efforts and sales opportunities.
York Region's central Greater Toronto Area (GTA) location, access to the 400 series highways, and transit system offer a variety of office types to fit different needs. From accelerator/incubator spaces to co-working offices and premium office towers. Let's dive into each one of these further and highlight real-world options currently available.
Accelerators & Incubators
One of the best parts of placing your spoke in York Region is that you don't have to stand on your own. Accelerator and incubator spaces offer businesses a soft-landing option for branching into the Region backed by resources and collaboration. They give access to a community of industry advisors, workshops, rental prototype development and testing resources, and an overall workspace built for collaboration.
York Region has three well-established accelerators/incubators each providing their own unique advantages. They are:
ventureLAB: Located in Markham with a specialization in tech hardware and software enterprises and is currently home to the Hardware Catalyst Initiative, the only one-of-its-kind currently available in Canada.
YSpace: Located in both Markham and Georgina offering a community of programs focusing on virtual supports/programming, women-led businesses, and growth-ready tech ventures.
Treefrog Accelerator: Located in Newmarket supporting international and local tech startups with products and/or services looking to scale in North America and are a recognized Start-up VISA partner.
A recent example of using this type of space for a soft-landing spot was South Korea-based AI-data company AIMMO launching their Canadian branch in York University's incubator, YSpace. As the company's North American base office, the location will allow them to launch into the local market while having access to YSpace's resources and the deep talent pool available in the GTA.
Branching into northern York Region, YSpace recently opened its newest location in Georgina offering collaborative space, tools for e-commerce, program support and more to local startups and existing businesses.
Shared Office & Co-working Space
Using a private shared office space can also be a strong selection for your company's spoke office that allows employees to come into full-service locations closer to home without having to take on a space independently. York Region offers a variety of shared office spaces in different sizes throughout all nine cities and towns ranging from singular offices to full buildings.
If your focus is collaboration, try a co-working space designed for collaboration with clients, coworkers, and your fellow industry companies. Here are just a few spaces available in York Region:
Premium Office Space
Are you a large company thinking about a more traditional setting for your office? Premier office space is currently available across York Region, offering companies more spacious office spaces which allow them to keep proximity to their employees with high quality traditional office space amenities. Including lowered congestion in public spaces and elevator wait times due to low-to-mid rise building heights. The office spaces offer access to downtown Toronto, the 400 series highways, public transport, retail amenities, and likeminded companies.
For example, companies such as General Motors Canada, Astera Labs, KPMG, PWC, and Aviva Canada moved into already built Class A buildings bringing their presence and expertise to York Region.
Here are a few premium office space options currently available for lease: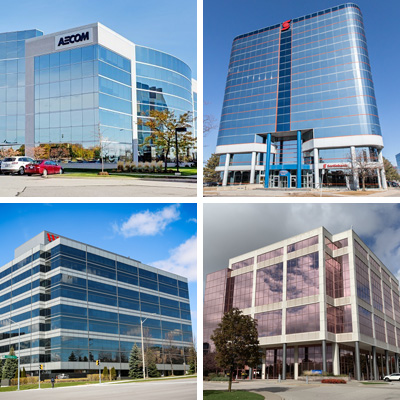 Each of these types of office spaces offer a unique way for your company to move closer to your employees while joining the collaborative ecosystem available to businesses in York Region. Whatever your company's return to office looks like, York Region is ready to assist. Learn more about the types of spaces available and how to access them.